The Friends of the Gates Mills Library Annual Dinner
Wednesday, Sep. 6th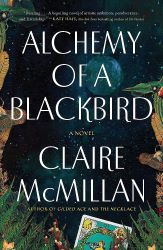 The Friends of the Gates Mills Library 2023 Annual Dinner
Featuring local author Claire McMillan will be held on
Sunday, October 1, 2023
Sara's Place Restaurant
1501 Chagrin River Road
Gates Mills
$58/person includes 1 drink (beer or wine), special buffet dinner and author presentation.

5:00 - Library open for browsing and mini tarot card readings: Drinks and Appetizers in Burton Court
6:00 - Sara's special buffet dinner
Author presentation in Burton Court following dinner.
Appletree Books will be on site with books for purchase
---
Little Mountain Author Clair McMillan restyled "The House of Mirth" to Cleveland Heights in her first novel "Gilded Age" and brought Gatsby-esque "The Necklace" to Gates Mills in her second. In her latest work of historical fiction, "Alchemy of a Blackbird", Clair explores themes of surrealism, mysticism and friendship. The Friends are indeed privileged to welcome Clair bact to our members' Annual Dinner.
---
***9/21/21***STILL ACCEPTING RESERVATIONS! PLEASE JOIN US.
Reservation and check due no later than September 15. Reservations are limited.
Please make checks payable to "Friends of the Gates Mills Library" and mail to:
Kim Brustoski, 1809 Berkshire Rd, Gates Mills, OH 44040
see flyer below for RSVP form.