NOPEC - Electric/Natural Gas Enrollment Letter
Wednesday, Apr. 19th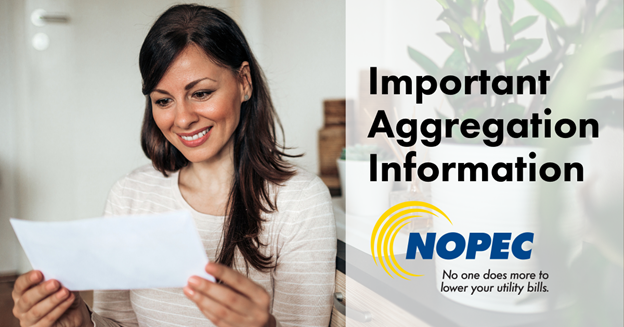 RESIDENTS TO RECEIVE ELECTRIC AGGREGATION ENROLLMENT LETTERS
Eligible residents and small business owners will be receiving an electric and/or gas enrollment letter for our community's electric/gas aggregation program through NOPEC. Letters began mailing in early April for enrollment into the NOPEC electric program for the period beginning with customers' June 2023 meter read dates.
If you want to enroll in NOPEC's Standard Program Price, you don't need to take any action when you receive your enrollment letter. You will automatically be enrolled. NOPEC's initial Standard Program Electric price will be 6.45 cents per kWh from your June 2023 to your December 2023 meter read dates. This is significantly lower than the projected Standard Service Offer (SSO) rate the utility will be offering during this same period.
Additional information and rate options including fixed term, monthly variable pricing, and 100% renewable options can be viewed online at nopec.org/electric or by calling NOPEC's Customer Care Center at 1-855-667-3201. If you don't want to enroll in the electric aggregation, you must return the opt-out form attached to your enrollment letter to NOPEC by mail or by fax to 440-774-4422 by May 2, 2023.
For more details regarding the letter and what this means, see https://www.nopec.org/enrollment-letter-2023
Still have questions? - Join NOPEC for a Virtual or In Person Meeting. Our neighborhood meeting will be held on Wednesday, April 26 from 7-8 pm in Lyndhurst Community Center, 1341 Parview Dr. Members from NOPEC will be on hand to answer questions. Visit nopec.org/infomeetings to see the full schedule or register for a Virtual Meeting.
Check out this informative video that explains who NOPEC is, the enrollment letter, and program options available to eligible customers:
Event Date
Wednesday, April 26, 2023 -

7:00pm

to

8:00pm
Event Location